What purpose do door handles serve?
The door handles basic purpose is to make entry and exit movements from a room or an enclosed space easy and seamless. Often remaining unnoticeable and inconspicuous, handles on the door serve are made and designed with one single purpose.
Today, thanks to new and smart designs and technology, there are visually appealing and impressive door handles for all areas and rooms, but before considering appearance and looks, it is important to ponder the utility factor. The handle should be easy to use and make it convenient to enter and exit the place. The handle should be sturdy and robust and not give in easily. At the same time, opening or closing the door should not be a case of a struggle for people.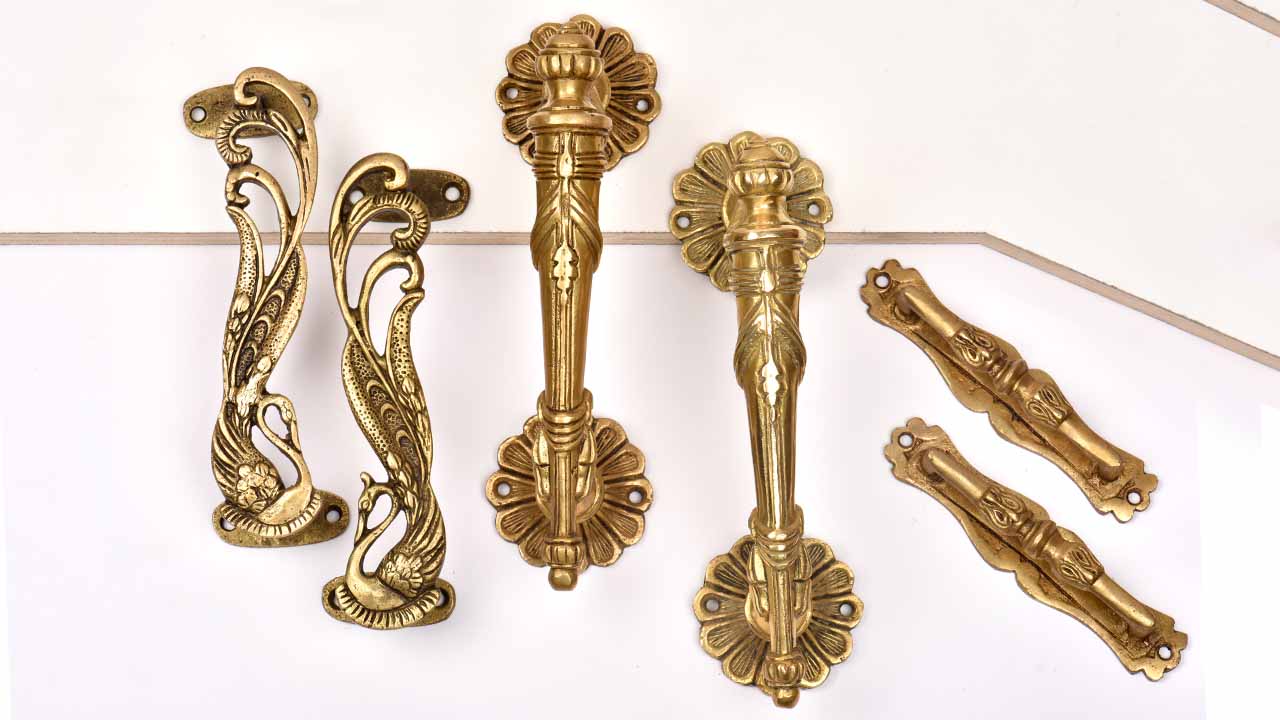 15 ways door handles can improve the look of your space
if selected carefully, can make your house look elegant. You can give a different type of look to your house even though the handle of doors. You can choose door handles that match the theme of your house too.
Be it the main door of your house, the doors of different rooms, the doors of walk-in closets, or the doors of cupboards, the door handles and common in all, and by designing them, we make the simple doors look classy and stylish.
Internal doors play an important role within a property. It acts as dividers and access points of two areas inside the house. If we look at a typical four-bedroom apartment, it may have around 11-18 internal doors, 7-8 wardrobe doors, and 1-2 main doors, but this estimation can be higher in older and more traditional properties.
Door handles may be small in appearance, but the style you choose must fit the surroundings' theme. There are many options in door handles in terms of size, shape, color, type of material, and main door handle design. You will have to select on your own which one would fit perfectly according to your house plan.
Metallic designer main door handles
Main doors are the main attraction of a house before a guest or a friend enters your home. It gives the first impression of the house and the people living inside.

You definitely would like to give a good first impression of yourself and tour the house to the people who are vising you.

A great door with a designer door handle can help you with a nice first impression. The main doors of houses are mostly the strongest and the most designer one in the house as most of the people who are visiting you, or not would look at your main door.

A strong and designer door handle would be a great option for it. Metallic designer main door handles can make your door look great and can provide you better safety too if chosen carefully. They come in large sizes and classy designs too.

Generally, people go for the metallic door handle options for the main door, which is the best option. Don't be boring while selecting the door handle for your main door; you can even give orders to design a custom door handle.
Smooth and shiny door handles for your main door:
If you have a private room, you definitely would like some privacy. Door handles can help you in providing privacy and safety.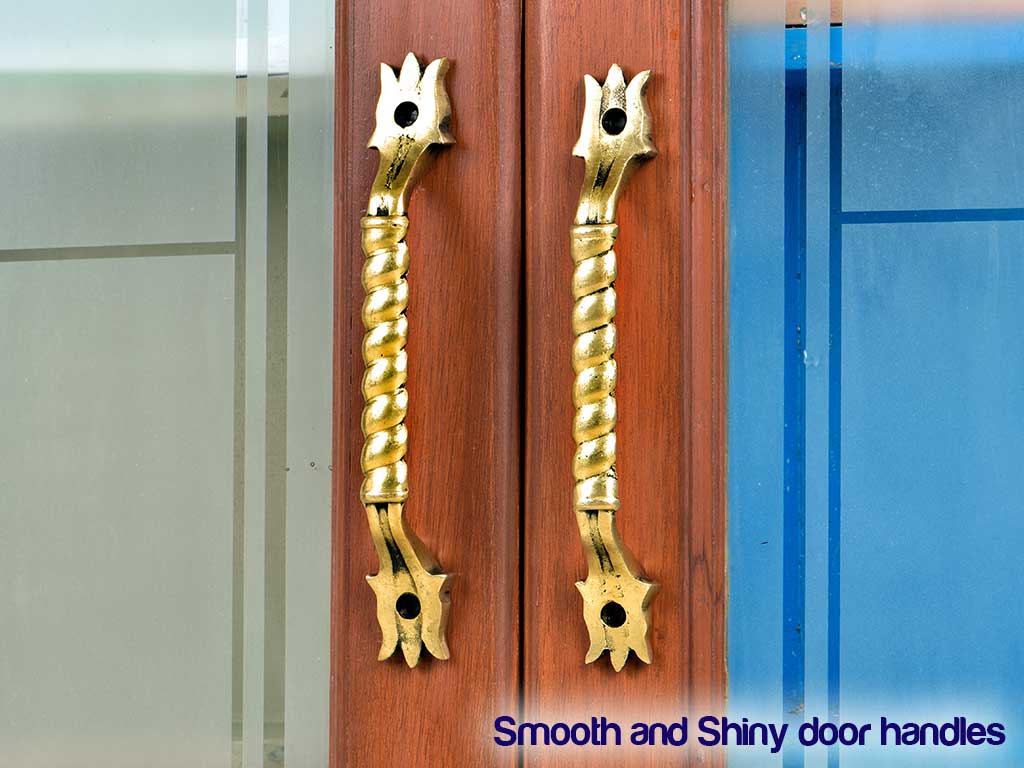 You would be surprised to know that door handles can be the most challenging task in decorating or redecorating a door. You have to keep in mind that your door handles should match your interior design and color scheme.
You need to get better hardware for your handles to provide safety. However, interior door handles play a different role than exterior door handles because both are used and the number of people they come in contact with.
If the hardware you chose for the door handle is of premium quality, the appearance will certainly last for years. To maintain the handles' shiny surface, you need to clean them regularly, just like cleaning the rest of the house.
Graceful and elegant wardrobe door handles: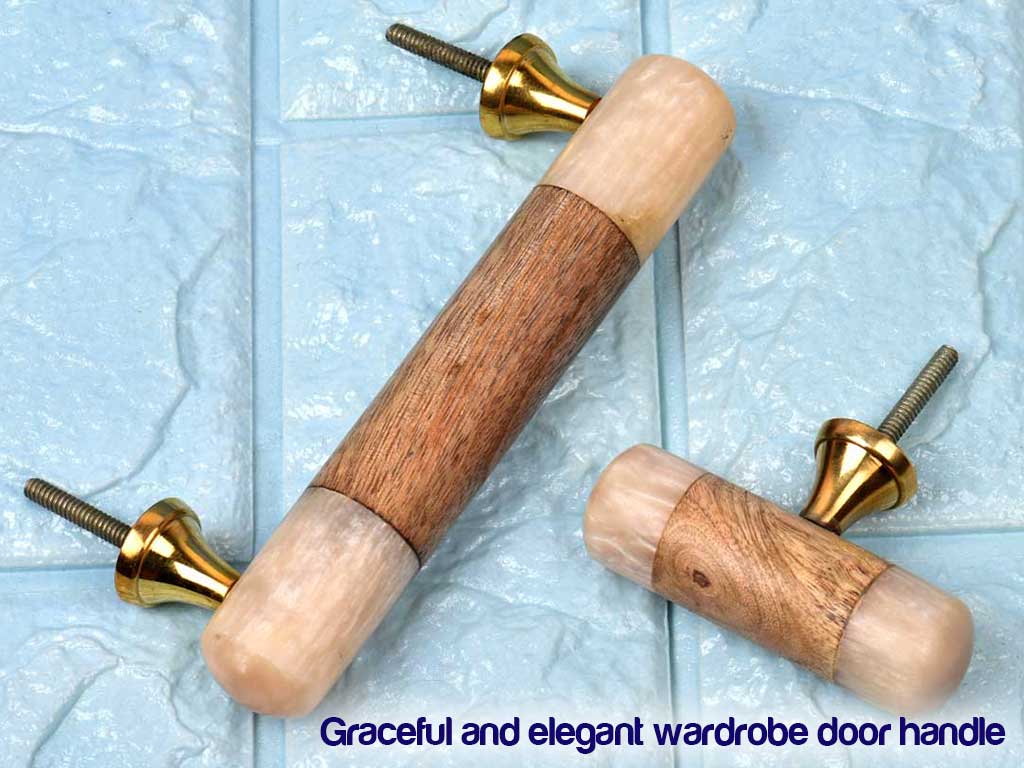 You have shopped all the new fashion clothes and accessories for yourself, you bring them home, and you open your door to put them inside. The door handle of your walk-in wardrobe can tell a lot about the types of clothes you will find inside.
There are different types of door handles for wardrobes that can match your house's style and interior. You need to take proper measurements before you go and buy door handles.
Any miscalculation can lead to ill-fitted door handles that will look bad and even cause trouble while opening and closing doors. You can keep your confidential or personal stuff in your wardrobe, and the lock feature on the wardrobe door handle will provide it safety.
Easy-to-use and strong door handles for shop entrances: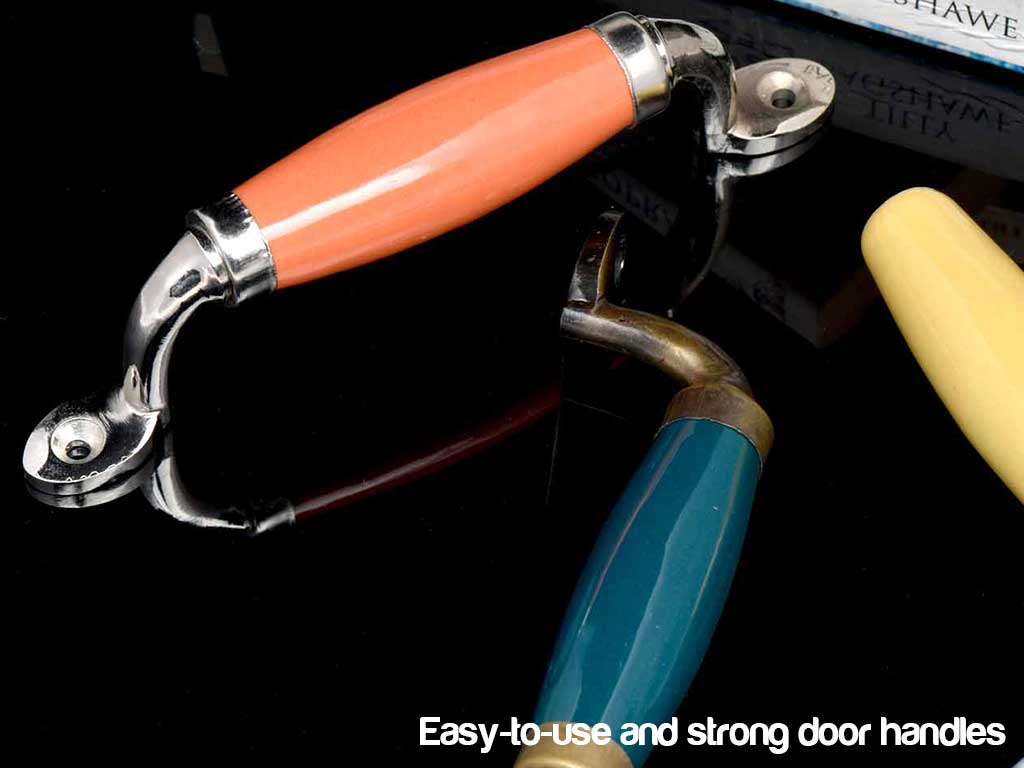 If you own a shopping center, you might like to have a glass door as your entrance. Door pull handles are mostly used door handles in glass doors at entrances.
They give a simple and classy look to space. The most interesting fact about it is that it can fit with any theme or background as the door is made of glass itself.
It is very strong as it serves the purpose of getting used multiple times a day. Its metallic, shiny, and smooth surface provide the benefit of anything not sticking to it.
Ball privacy handles for your elegant bathrooms:
People spend a lot of money on the bathrooms' interior. They make it as comfortable and luxurious as possible. The door to your bathroom should also have a door handle that can enhance the beauty of your bathroom.
Ball privacy handles are a good choice for bathrooms as they provide security and privacy the best. There's no keyhole in these types of handles, so no one can peep through the hole while you're in the bathroom.
They are easy-to-use and have various designs and style options available. Now along with your bathroom, your bathroom doors can also look elegant.
Flush pull handles for cabinets:
There must be many cabinets around your whole house as they are necessary to store things. Many cabinets or show-cases have sliding doors, and using any door handle would cause trouble in its opening and closing.
Flush pull handles are the best door handles used in sliding doors; as they leave the flush finish, they slide into the cavity of doors without causing any obstruction.
There are various styles and sizes available for these door handles, from small finger pulls to rectangles, squares, and circular designs. They give your cabinets a clean and smooth look as the door looks plain and simple as it is.
Rim knobs for your room:
A rim doorknob is a doorknob utilized with surface rim locks. Rim door knobs are additionally normally fitted to engage stylish tastes; More Handles mirror this in our later enhancing and the looks, yet secure, collections.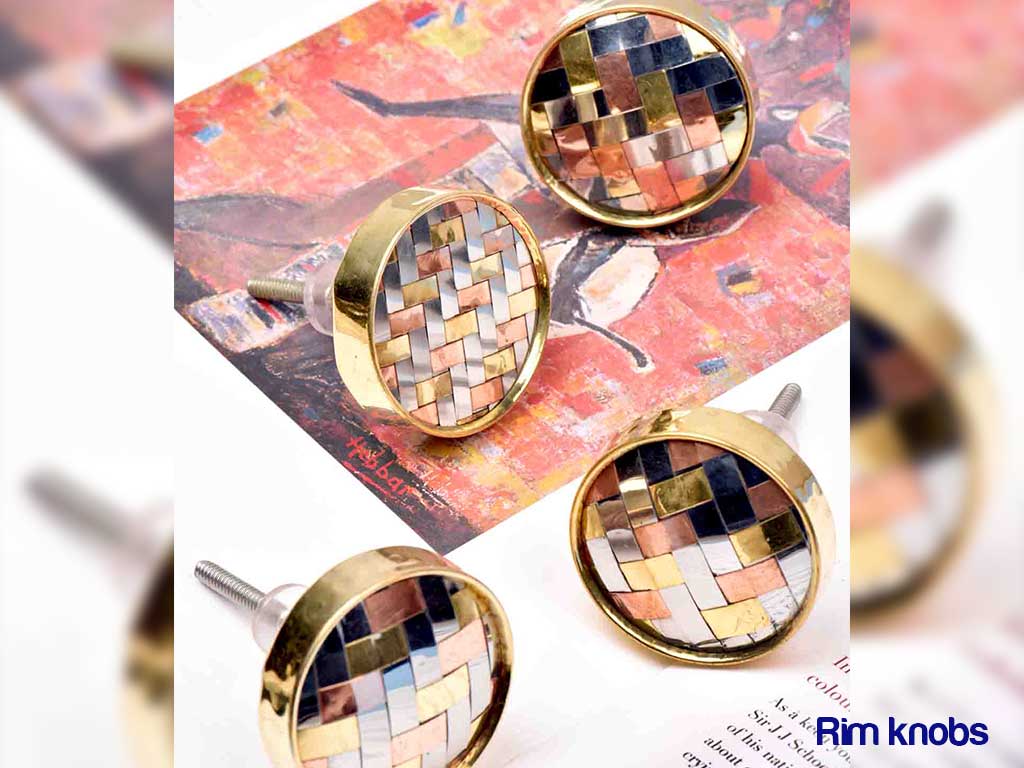 Rim door handles are regularly utilized with an edge lock and are an exceptionally tasteful yet secure piece of door equipment. The traditional Queen Anne edge door knobs are a lovely piece of door equipment.
They have a traditional allure and are likewise accessible in a Chrome finish for a more current look. Incredible-looking door equipment, for example, can add character to your generally forgettable door. Moreover, these door handles can be utilized as one or the other edge of mortice doorknobs.
Cup handle for your fancy cabinets:
If you have show-cases or other fancy cabinets in your house, then you need cabinet handles for these too. The best option for these cabinets is cup handles.
These are the perfect handle for drawers, kitchen cabinets, and more. They prove an easy and smooth grip, particularly on heavy furniture.
Pulling heavy furniture can harm your hand if you do not use a proper handle for these. They come in a classic semi-curved or semi-curved shape.
There are various colors available for these door handles that can fit according to your house interior. The best thing about the aluminum handles is that they can be too small and too big, and both are essential for different types of places.
Porcelain Door Knobs For Elite Look:
Porcelain door handles can be white with pretty flower designs for that beautiful country cabin inside, plain white, cream, or dark to organize with a simpler decor. You can even join with metals like brass or chrome for a more refined look.
Ivory crackle porcelain handles on a Florentine bronze rose to have that magnificent old antique look about them and look dazzling on mellowed normal wood doors. Midnight crackle porcelain handles on cleaned chrome can stand their ground in a more current setting.
Coordinating with Accessories Country style doors are frequently seen coordinating with finger-plates and shields, which, along with the door handles, help make a very much completed and cleaned generally speaking look.
Coordinating with cupboard door handles gives old pine kitchen cabinets and room chests a designer lift. Porcelain switch handles on rose, plain white with metal or chrome is an exemplary expansion to any door.
A Low Maintenance Material porcelain is not difficult to take care of, just requiring a delicate wipe over with gentle lathery water to eliminate stubborn marks and a famous decision for room and washroom doors.
Aluminum handles to enhance the kitchen's beauty:
Most of the metallic items in your house are present in your kitchen in the form of utensils. With shiny and polished utensils, Aluminium handles and knobs fit perfectly. They match the finishes of the kitchen and enhance the beauty of your kitchen.
A place where you cook food for yourself and your family needs to have a beautiful design and looks; aluminum door handles are strong and come in various designs to fit according to your decor. Easy to clean and smooth to hold is the best feature that aluminum door handles provide.
Glass drawer handles to give a crystal clear:
These sorts of handles have the glass or crystal material utilized in making the round shape. The neck of the handle is still made of solid metal. You should like to utilize glass for your cabinets, as cupboard door handles and drawers of your parlor or lounge area.
The sheer lavishness displays the elite taste and very good quality affordability of the inside equipment things. Nonetheless, you should not utilize them in places like the kitchen or washroom, as these spots need more solid cabinet handles.
Mortise handles to give a classy look to your office:
It is very common that going through the grim duties of choosing accessories while rebuilding your home or office can be exceptionally hard. There are numerous alternatives accessible in accessories classification; however, Mortise Handles are the most recent designs that are trendy and liked by the home and office inside decorators.
The mortise handles are mostly rectangular bars put on both sides of the door with the lockset. The door can be opened or shut by pushing the rectangular bar downwards.
The greatest advantage of the mortise handle is that it advances security, yet the design isn't left upon. In customary door handles, the extent of designing is insufficient; yet in mortise handles, numerous designs can be made on the rectangular bar of metal mortise handles.
Concealed handles for astonishing kitchen or drawer:
The Concealed Handles are exceptionally trendy, simultaneously; they cost practically equivalent to common cabinet handles, however minimal more expense to introduce it. They are incredibly easy to understand and can be handily utilized for opening and closing.
Alongside these advantages, numerous designs and alternatives accessible in the Concealed handle for kitchen cupboards and drawers. That implies you will get a comprehensive look at the cupboard, whether in your kitchen or other room.
One more secret benefit of utilizing concealed handles is that your concealed handles won't consume or rust away soon. The concealed handles are as simple to clean and keep up as utilizing them. There are multiple shapes and sizes in which these concealed handles are accessible to us.
Aluminum Handles for designer drawers:
Aluminum handles are the most recent trend in cabinet handles. There are a few explanations behind it. Aluminum is a metal that is lightweight, strong, and doesn't easily rust. Additionally, Aluminum handles have been a staple of the numerous advanced topic-based inside designing called classic themes. They support essentially forever and can bear pretty much anything you can fit on them. At the point when you lose it outside in the snow the entire winter, you don't track down a corroded handle of rust in the spring.
Brass handles for main doors:
The primary brass door handles produced using metal come in push bars, handles, door pulls, mortise handles, and so on. The brass is a tough metal alloy, and in this way, it is abundantly liked by main door handle producers. They accompany both lock mechanisms and without lock systems. These are profoundly liked in the customary inside theme of the homes.
Buying guide to get the right high-quality door handle
While adding a factor of functionality to your interiors when selected with care, the high-quality door handle can enhance the look of your house's interiors. In this guide, we have come up with the best door handles that can act as the best décor of your house.
With the help of a horizontal lever fixed on the backplate, a door handle can be dragged upwards and downwards to close or open a room's threshold. The door handles with an easy-to-use and small design are ideal for commercial and domestic premises. On the other hand, the bigger door handles can serve as a fashion statement for almost any interior décor.
Lever on rose
This door handles feature a metal bar which is installed horizontally to its small backplate. This door handles with the lever on rose structures come with a compact design. Consequently, these types of handles are easy and flexible in terms of usage. It can be used for interiors with minimal decors along with interiors that have a contemporary finish. You can choose the main door handle with square and round backplates to add a custom look.
Lever on backplate
The vertical and large panel used for fixing level onto the door's backplate handles can conceal scuffs or marks originating from former hardware. Consequently, they are the best choice for refreshing jobs. When in use, their large size can offer additional grip. Their large size is the best choice when it comes to kitchen door handles or multi-generational houses.
Bathroom handles
These door handles are suitable for extra privacy. These bathroom handles come with hand grips that can be operated with a deadbolt mechanism. Consequently, this mechanism can close the rooms securely to prevent unwanted visitors from entering them. This type of door handle, which features a lock, is beneficial for creating secluded segments. Hence, choosing these handles ensures you can enjoy your baths and showers in peace.
Pull handles
These handles can distribute the weight throughout a large area. These handles with pull structures are often used on heavy doorways. Consequently, this feature makes them easy to open and close. Their simple and robust design makes them an ideal choice for commercial purposes. They offer a strong grip, while their smooth surface is easy to clean. Hence, they are a practical choice for public settings.
Sliding door handles
The sliding door handles can pull open or close a door with the help of a single slide. For ensuring more safety, these handles are ideal options. Besides, they feel light on sliding. These handles are fit for commercial spaces, hospitals, corporate offices, showrooms, clinics, etc.
You can choose these door handles from three different options like aluminum, brass, and chrome. With a cool- tone and polished hue, these chrome door handles are the favorite of most households due to their long-lasting fashion and versatility. Aluminum handles come in deeper metallic finishes that suit the appearance of industries. These handles are the best way to add an engineered finish to a commercial space. You can buy these door handles in India from a renowned online portal.
Door Handle Choices
When it is about designing your house, you have to be very careful with your choices. The door handles might seem like a small thing, but they play a very vital role in the decor of your house. There are varied types of door handles available and on different bases too:
A. Finishing
Among the most popular finishes right now, you have to select a finish that blends in with your overall design theme. Polished Finish: Polished treated steel reflects light and makes the impression of bigger, brighter living spaces. The neutral tone of stainless steel enhances and fits with every modern interior style; not just this, polished handles excel in performance, durability, and quality for the long term on every interior door at home.

Brushed Finish: Brushed finishes have a subtle and soft finish that is best for the least interiors that want to experiment with texture. It shows very less marks and imperfections, making it a low maintenance option.

Antique door handles in India: have a tarnished finish, due to which it re-creates the handcrafted metal look, which makes them a great choice for heritage and architectural decor. It has a matt texture that enhances the aged appearance.

Satin Finish: It offers a frosted look. The finish that satin provides is muted and hides visible fingerprints. These are pretty easy to clean and are used in high traffic areas where doors are used repeatedly, like hallways.
B.Colour/Texture
Several colors are available for a door handle that will fit your home decor.
Black: The trend for black accessories gives no indications of ebbing, which helps through door furniture. This intense tint can feature a pale design for a monochrome look or add a wooden door handle for many rustic appeals.
Nickle: This color looks warmer than other silvery metals because of its yellow undertone. It adds a premium look to door handles.
Aluminum: This color fits perfectly with a brushed finish and creates a tactile feature that can soften the design.
Chrome: Chrome door handles are a firm favorite among India's households because of their versatility and long-lasting style.
Brass: Brass door handles in India are a common option with their gold-like look; it adds a luxury look to doors.
SS door handles: Stainless steel trend is never going to end because of its enduring style, which adds a subtle finish touch to door handles.
C. Designs:
Several types of designs are available for door handles:
Contemporary: Contemporary modern door handles are often found in new-age houses with sporting clean lines and geometric shapes. They are perfect for adding an architectural feature to doorways.
Traditional: These are great for households having bygone interiors or a classic look. When it's paired with aged metal, it adds a charm. Victorian: Victorian designs stand out as door handles because they are ornate. They are available in rich colors like brass that provides a refined look to a room.
Modern: Modern door handles provide a simple and elegant look to the house. Their unfussy appearance emphasizes their modest look.
The shape of Door Handles
Door handles play an important role in enhancing the beauty of your decor. Choosing them can sometimes be an overwhelming task as there are so many different types of door handles based on shape, color, designs, etc.
Different types of door handles:
Lever Latch: These are the most common type of front door handle. There's a latch connected to doors having these handles that keeps them shut. The door handle consists of a lever handle or a knob that works on this latch.
Lever Lock: These are similar to lever latch handles. They are attached to a backplate with a lever and a keyhole below it. This keyhole is used to insert a key to lock and unlock the door.
Lever Bathroom: These door handles are typically used in bathrooms as they can be locked and unlocked easily from inside just by rotating the snib. It is attached with a mortice sash with a spindle.
Lever Privacy: It is functionally similar to a Lever bathroom because it is locked by rotating a snib from inside. Unlike the lever bathroom, there's no mortice sash in these handles.
Pull door handles: These are U-shaped and often used in the kitchen, drawers, and cabinets. They are mostly ss door handles.
Different handle shapes:
Oval: Door handles will be more cylindrical with no characterized edge and joined by curved edge backplates. Door handles are oval and are often polished and smooth.
Round: These door handles are mostly smooth and circular, whereas doorknobs are perfectly round in shape. They come as placed on a round backplate.
Angular: These door handles have rectangular or square backplates attached to them. The handle is also rectangular, along with crisp edges.
Classic: Traditional Victorian style has a large rectangular backplate along with a decorative and shiny curved handle. These are mostly available in brass. Contemporary: Contemporary and modern style front door handles are mostly simple, minimalist, and sleek. They are often available in chrome or a statement color, like bronze or black, with a small or no backplate at all.
Latest door handles design options
As human civilization progresses and technology advances, every aspect of our living is getting smarter, easier, and enabled. Here are some of the latest add-ons for India's main door handles that can make our lives smoother and better.
Innovative self-sanitizing door handles designs
In the times of the global pandemic, nothing worked better than sanitization guidelines. Some innovators have gone ahead and used technology to make some credible innovations for handles too. You can shortly lookout for self-sanitizing handles that remove viruses and harmful microbes with built-in technology.
Some handles are now equipped with ultraviolet light to scan the handle after use and kill dangerous microorganisms.The other innovation in this context is the foot-operated handles wherein hand contact is replaced with the foot or even the elbow.
Accessible door handles
Rotating handles and knobs can be challenging for disabled people since the standard handles need to be gripped and rotated. D-handles' use has proven to be a big help because of the large holding or grasping area. Lever-operated handles are also a good option in increasing accessibility because the handles can be opened effortlessly by simply leaning on the door.
Biometric door handles
Security is a reason of concern in a progressive world. Increasing crime rates demand that we take utmost care of our loved ones. Biometric devices fitted onto the main door handle can help a lot, helping only authorized persons to enter the premises. Such door handles are being used by a growing number of corporate houses and office complexes. The demand from the residential market is also growing considerably.
Lighted handles of doors
To illuminate a closed space like a corridor or the staircase, illuminated door handles are increasingly used. Such handles help in increasing visibility in dark areas, adding to the safety aspect of the place.
Eco-friendly handles
More and more door-handle manufacturers are using plastic from the ocean to make plastic handles. These are methods that help in adding to the sustainability of the planet. Increasingly there are handle options that are made from recycled aluminum that are 100% locally sourced. Using digital handles is also an excellent way to improve the eco-friendliness of your space.
Door Handles Versus Doorknobs
Door handles and doorknobs are in high demand for drawers, cupboards, doors, and windows. It is important to keep them in the best quality to maintain your house décor and make them easy to use. Following is the perfect guide for you to decide what to choose for your home.
Easy to Use
Door handles are very easy to use as you need to pull the modern door handles for opening the door, and the same has to be done for closing the door, whereas the doorknobs are a little difficult to use in this case.
Door knobs are required to be held and rotated for opening the door, and at times, doorknobs are also stuck while using. Door handles do not have to be rotated for use, so it is an easier option if you like quick fixes for your doors. Door knobs do not provide a proper handle, so that it may be an issue with new people in the home.
Lock Friendly
Door handles are easy to use but difficult when it comes to the lock system. They do not have separate locks with them, and you need to arrange a lock system separately for your door. The wooden door handles can be made using good quality wood but still needs protection for sustainable usage. The doorknobs do not have this issue at all. All the doorknobs come with a lock at the center, and you do not need to arrange for a lock separately on your door, so this also creates a good look of your door, making them look more beautiful in your house.
Kids friendly
Door handles design is made in such a way that they are very kids friendly for the reason that they are slim and can be held with the small hands of your kid. While using the door handle, your kid would not need your help and can manage it on his/her own.
The doorknobs are made in a structure of round ball, which is bigger for those little hands, and the kids find it difficult to hold, so if you are looking for handles for a place where kids are primary members, then it is recommended to go for the door handles so it is easy for the child to use it.
Style and décor
There are many styles present for door handles online, which can be opted as per your door's design, and the same goes for the doorknobs. It completely depends on your need; what do you want for your doors. Door handles are sleek and look good always to be a better option for the home doors, so your home looks more beautiful to the visitors, and door handles are an easy deal for the kids. Basic Door knobs come with that simple look and lock in the center mostly, so they are best suitable for the corporate offices to give your workplace a more professional look, and a doorknob is also lockable, so even better for the doors of your office.
Budget-friendly
The budget for buying the doorknobs and handles completely depends on your choice of design. As the design will uplift, the more it will be priced. Still, door handles are affordable for a better understanding, even if they are of some fancy design.
Door knobs are not an affordable deal for the reason that they are manufactured using heavy material. The more fancy doorknob you will buy, the more expensive deal it will be for you. So choose wisely for your door after reading the complete guide for choosing the door handles or doorknobs.
Picking door handles - what to remember.
1. The color, main door handle design, and aesthetics should match the overall decor of the place.
2. The handle's material is important and should be picked depending upon the location where these will be used. For example, kitchen door handles and bathroom door handles should be non-reactive to water, moisture, and heat.
3. The material of the handles on balcony or terrace doors should be rust-free, moisture-free, and overall, should be robust and strong.
4. The main door handle should be high on integrity so that it is not easy to compromise with the security of the place.
5. If there are specific requirements, then you need to pay attention to the exclusive demands. For example, if you have a physically challenged family member, you need door handles that are accessible and friendly.
The best place to buy handles for your doors - door handle prices
Door hardware can be bought from reputed brick-and-mortar stores. But, in the real world, looking through different options can be cumbersome and physically exhausting. The best place, undoubtedly, for buying door handles in India is the online world.
Amazing choices make the virtual platform the perfect place to research and find exclusive details of handles. Besides, there are other advantages too. If you pick a credible seller for buying door handles online, you are sure to get attractive prices, offers, discounts, and handsome deals to make the purchase worth your time and money. There are exciting choices in different types of handles for your main door, bedrooms, living rooms, kitchen, bath, wardrobe, and terrace doors.
Most leading online sellers ensure safe and well-protected payment options, superior shipping and delivery services, and professional handling throughout. You can speak to the seller's customer care to contact you with experts who can help you pick and install the door handles. Read the exclusive blogs and articles on leading seller platforms to get more information and details before starting your journey of replacing old handles on your door with new ones.
Summarizing
Door handles may be small, tiny, round, square, simple, nondescript, flashy, brass door handles in India, or extravagant, antique door handles but these are an essential door accessory. Picking the right one is crucial, and you have to do everything to make sure that you pay attention to all aspects - read out the guide here thoroughly - before going ahead and changing the handles of your place. An online medium is an amazing place - make sure that you access images and videos of all types of handles to make your buying experience interesting and engaging.