Holiday season is arriving. But Santa is absolutely not bringing you your favourite jewellery box from the stores. That is something you need to look after yourself by diving into some famous silver jewellery stores; which, by the way is just a few clicks away nowadays.
To make your search even easier, we compiled a list of 10 trendy silver jewellery pieces which, almost always never go out of style. But prior to setting out towards the trends, let's take a brief overview of silver jewellery.
Silver is the most common noble metal used for making jewellery other than gold and platinum. An eye looking for beauty can never miss the charm and coolness a piece of original silver jewel has to offer.
From a young woman's box of favourite accessories to a freshly customized bridal set to a joint family's heirloom collection, silver is everywhere. However, the most common form of silver used these days is not the 100% silver, but 925 silver; also known as sterling silver.
Sterling silver these days lie on the same spectrum as the gold jewellery and hence, quite popular among women of all ages.
So, let's begin with the trends.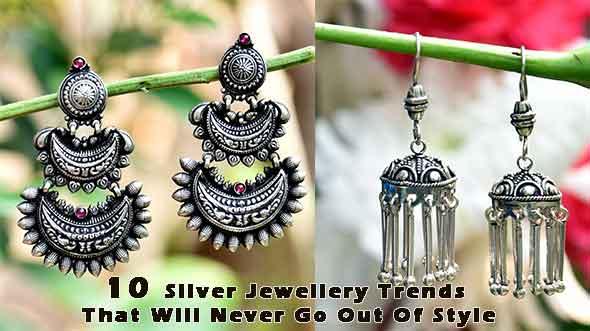 ELEGANT SILVER JEWELLERY, NECKLACES & PENDANTS
Whether a woman has a fair complexion or slightly dusky, silver neck pieces look stunning on nearly every skin colour and type.
1. Minimal Silver Chain With Heart Pendant
A sleek silver chain shines pretty on any and every kind of appearance. From a Western gown to an Indian sari to a formal suit to a pair of palazzos, pretty much every outfit goes with such a minimal style.
Donning a chain like this with an open heart shaped silver pendant will offer you a strikingly fabulous look for a wedding anniversary, a business seminar or a cocktail party.
If you're looking for a retro style look instead, consider a heart shaped pendant coming with a closing magnet which opens to reveal a custom photograph inside.
2. Silver Chain with Initials or Motif Pendants
The 90s era saw a blooming rise in the initial style jewellery pieces. Just like a heart pendant, a pendant containing initials is also a gesture of flirtatious romance and exciting beginnings. Oh, and if you want something which contains both the initials as well as a motif, even these options are available with many jewellers offering customized jewellery pieces.
3. Silver Necklace with Moonstone Locket[Silver Jewellery]
Spilling magic was never easier than wearing a combination of sterling silver jewellery and a glowing moonstone. For teaming up with the chain, consider a pair of moonstone studs. White or blue hued cut-out moonstone will offer the best look.
A pair of silver lined moonstone studs or a pair of the most basic pearl drop earrings will best complement the look with a necklace like this.
You Can Read Also: Silver Jewellery Online: Exclusive Range Of 92.5 Silver Jewelry | Indianshelf
STERLING SILVER STATEMENT RINGS
A sterling silver ring is a sophisticated choice for both formal as well as party wear settings. Take a look at two of its trendy designs.
4. Sterling Silver Ring Encrusted With Stones
A piece of jewellery couldn't be more beautiful than with the additions of hints of some squashy colour to the ethereal tone of silver metal. The add-on of gemstones and beads to a piece of silver jewellery increases its value in multifolds, even though the price is almost much the same.
If you are planning an anniversary gift for your wife or your girlfriend, or if you're looking to purchase a brand new silver set anyway, think of a sterling silver ring encrusted with a gemstone like emerald, blue sapphire or ruby. Each of the square and circular cut stones looks as good as the other.
5. Sterling Silver Engagement Ring With Cut Diamonds
A silver ring studded with cut diamonds is a magnificent alternative to a platinum band or an expensive exotic ring otherwise. It equates a look reflecting luxury, poise and love at the same time.
For a wedding bridal kit or engagement jewellery theme, a ring with a princess-cut diamond at the top with tiny cut diamonds lining the band is a wonderful choice. You can also consider the ones polished in white gold.
You Can Read Also: Silver Jewellery: Online History Of Silver Jewellery | Indianshelf.in
BRILLIANT SILVER EARRINGS
From drops to hoops, from Indian handcrafted to exquisite French, from college to cousin's baby shower, and more!
6. Silver Plated Shambhala Crystal Ball Studs
If you have been saving your pennies to purchase that one piece of jewellery at the end of the year, this is that piece to consider. A pair of shambhala style crystal ball studs is a common yet uncommon style of earrings which is equally suited for formal as well as festive occasion wear. Besides, these shambhala style crystals carry a spiritual significance too.
If you don't want to go too silver, you'll also find many fashion jewellery collections selling silver earrings with colourful shambhala crystals or equivalent imitation crystal beads.
7. Bohemian Style Silver Earrings with Colourful Ghungroos
If you have been wanting to wear something which gives you a mix of ethnic and modern style, a pair of Boho style earrings is the trend to follow.
If you are going to wear it with a casual salwar suit or for a class, consider the ones featuring colourful little ghungroos or some alike beads. Multicoloured ghungroos dangling down the silver work gives the otherwise sophisticated silver jewellery the playful additional style of the everyday junk jewellery.
SILVER JEWELLERY & ACCESSORIES
The contemporary costume jewellery is designed in a way which is well suited for every fashion and look, be it a religious ceremony, a reception evening or a college hangout.
8. Antique Silver Bangles Stack
Silver bangles epitomize a uniquely youthful look which is unmatchable with any other kind of metal or even material. Look upon a stack of silver bangles coming with scalloped kadas to mark the edges of the stack. Or a pair of silver bangles comprising of purple or pink stone decorations is a gorgeous selection.
Combine a stack of antique silver bangles with a pair of jeans, or a bright toned sari. It is going to create a sensational fashion either way!
You Can Read Also: Silver Jewelry: How to Clean Silver at Home | Sterling Silver Jewellery Cleaning
9. Simple Sterling Silver Anklet Chains
Nothing is more romantic than the sight of a woman wearing clinking silver anklet in her ankles, especially the one consisting of some tiny bells. There are many intricate designs of anklets available in the market, from a thin chain to a heavily metalworked design.
While mostly, an anklet looks best when teamed with a sari, lehenga or a pair of salwar suit, going for a plain silver anklet chain with an office suit is not bad an option too. Combine a silver anklet with a pair of antique hinged arm bands and a delicate silver waistband; and you're going to give a look no less than a goddess!
Great choice for wearing in some religious occasions, festive celebrations and even for the wedding of a close friend!
10. Black Thread Necklace With Elaborate Oxidized Silver Locket
Oxidized silver is the choice of modern day woman. Besides offering the original elegance of silver jewellery, a conservative mood is added by the oxidized silver, which gives a slightly tarnished look. Oxidized silver is nothing more than sterling silver pressurized into oxidation to form a layer of black patina over the original silver. The best part, it is long lasting.
Further on, mix it up to have a Thai-style look. Match with a pair of cotton tunic dress, long skirt or palazzos. Fabrics with printed patterns will highlight the subtle gleaming of a necklace like this.
This necklace is a great option for wearing in a college function or an office meeting. Also, a good choice for informal occasions like a birthday party or a tea party!