Women have always appreciated finer things in life, and that includes precious metals like silver. Precious metals look lovely and last for a long time. It plays a vital role as a prized possession for a woman. Silver jewellery looks classy and apt for any occasion. Its history and reputation have made it a valuable asset for anyone who holds them. Today, women love wearing gorgeous-looking trinkets made up of silver that make them look stunning. Women love to horde a collection of silver accessories that completes their ensemble in a beautiful manner. Embrace this lovely fashion accessory and look your beautiful 'self.'
Today, we are discussing silver jewellery as a beauty accessory. Here, we share a few reasons why women love jewellery, especially silver jewellery so much.
Complements cool skin tones
Silver jewellery looks fabulous and has cool overtones that complement the skin tones well. This metal looks lovely on the skin and has a natural brilliance that adds more to its complexion. The jewellery pieces are available in amazing designs, styles, and patterns and look custom-designed. It is undoubtedly one of the most flattering pieces of metal that looks beautiful on Indian skin tones.
Long-lasting
Just like gold, silver metal is also used to craft interesting and exciting jewellery pieces. It is soft and pliable, which makes it truly wearable. Sometimes, it has to be alloyed with copper to impart strength to the silver metal and make it stronger without losing its lovely colour. It is surprising how a minuscule percentage of copper can make this jewellery sturdy and reliable. Despite the alloy's strength, silver jewellery is light in weight. Thus, even when wearing heavy pieces, it is not at all burdensome.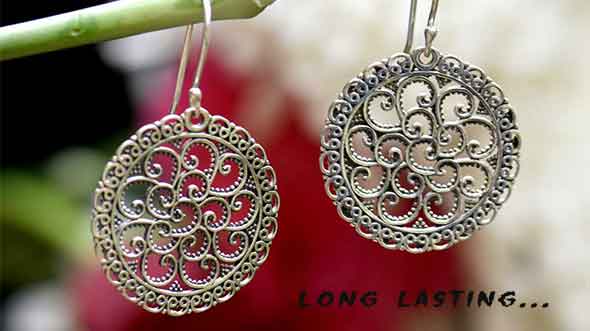 Cost-Effective Jewellery Option
Investing in a good quality sterling silver is precious but is available at affordable rates. Authentic silver pieces, once purchased, last for a long time and are such an excellent option. The quality you get is excellent and is perfectly commensurate with the price. Moreover, unlike gold metal, silver jewellery has a higher component of precious metal. Thus, instead of buying gold, many women prefer buying silver jewellery. For the uninitiated, sterling silver is considered as the basic for retailers selling silver jewellery. Whether you are on a budget or have a lot of money to splurge, you will get suitable options accordingly. Investing in silver jewellery is surely a low-risk purchase.
You can read also:
- Silver Jewellery Online: Exclusive Range Of 92.5 Silver Jewelry
- Silver Jewelry: How to Clean Silver at Home
Looks Fabulous on any occasion
Whether you are a young girl or a mature woman, silver jewellery looks good on young and mature skin. If your hair has started turning gray, no worries, flaunt your jewellery and look trendy and classy at all times. You will look youthful and full of fun with lovely jewellery. This jewellery looks so fabulous and complements well with the beauty and attraction of naturally-graying hair. It is the best way to enjoy this lovely transformation to sunset years.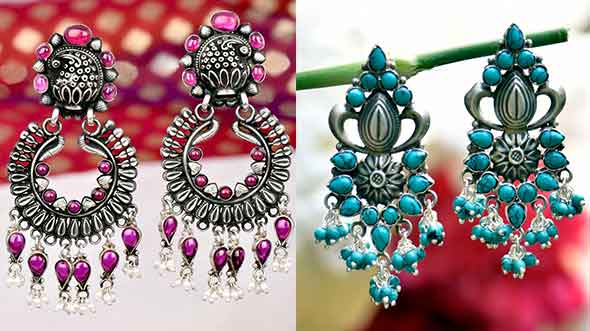 Every woman's best friend
We have always heard about diamonds being every woman's best friend. It is because of its delightful sparkle and the quality it brings. If you wish to enjoy the same sparkle and brightness without splurging a lot of money, invest in exciting silver earrings or any other piece of silver jewellery. You will look beautiful, and the natural brilliance of silver metal will look fabulous against any backdrop. Its reflective white and silvery color looks lovely. Silver jewellery also comes embedded with colourful stones that accentuate its beauty and look very beautiful. Choose trendy mixed metal options too which would look very nice on Indian skin tones.
Premium Quality
The 92.5 sterling silver earrings is one of the most regularly utilized elements in high-quality silver and accessories. But not just every silver alloy is marked as sterling — authentic sterling silver needs to have a set quantity of silver.
Sterling silver earrings are built almost entirely from purified silver. 92.5 percent of the mixture must be silver, plus the residual 7.5 percent originates from additional metals, most regularly copper. This small addition of different metals gives silver toughness and stability without changing its superb, white-grey form.
Sterling silver is nearly perfectly composed of pure silver, with a tiny joining of another metal for stability.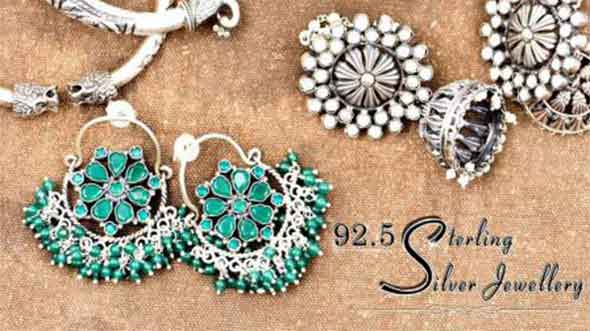 Although sterling silver is alloyed with other elements, it seems identical to glossy fine silver, which is a part of the idea that copper is the usual common metal to combine with silver. Copper provides a combination of maximum stability without changing its remarkable tone. If you are concerned that sterling silver will not maintain the same shining glow and colour of fine silver, you can set your concerns down.
Pure silver is a light, malleable element and makes it a rather unwise choice for any practical item — coins and silver earrings as you may want to retain their appearances to be beneficial for your needs. Its plaiability makes it a perfect option for intricately carved jewellery.
Pure silver is more valuable than a sterling combination, which suggests that to plan jewellery, an artisan must spend more on fundamental materials. This condition significantly increases the value of the ultimate product, giving silver a less effective choice for wholesale jewellery making. On the other hand, sterling silver is an affordable alternative for silver earrings for women. This feature makes it an attractive choice for a broad range of uses when coupled with its enhanced strength.
All these reasons and amazing selection of silver jewellery makes it a preferred choice for women of all ages. This lovely and gorgeous-looking silver jewellery is an asset that needs to be cherished forever. Whether it is a casual or a formal occasion, this jewellery piece is perfect for flaunting and showing off. Its versatile look makes it evergreen fashion accessory. Whether a college going girl or an office going woman, attending a casual "do" or a formal one, wear this and become the center of attention forever.