Interview With Ms Aparna Rajagopal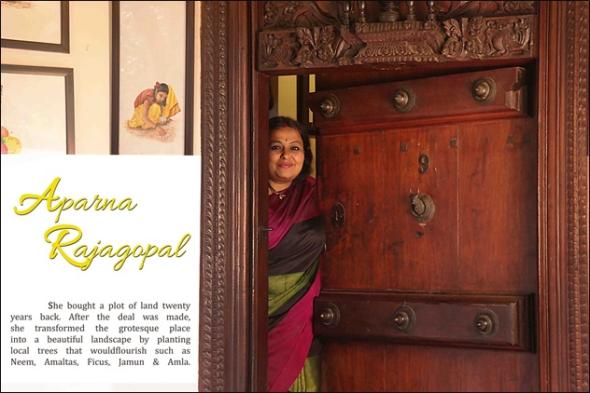 Homeowner Aparna Rajagopal bought a plot of land twenty years back or so, notifying the property dealer to try and find the cheapest plot in Noida with a wide area. Due to peculiar details demanded, it was not only difficult to come by the perfect plot but most of the property dealers turned down the strenous job in finding one. But as luck would have it one of the dealers found a plot of land which met all the requirements demanded. The land was affordable with a wide space and was north east facing, just the way she wanted it. The only disadvantage was it came with a public open drain next to it. With the barren land and an open drain, the view was awful but this did not stop Mrs. Rajagopal from buying it. After the deal was made she transformed the grotesque place into a beautiful landscape by planting local trees that would flourish such as Neem, Amaltas, Ficus, Jamun and Amla.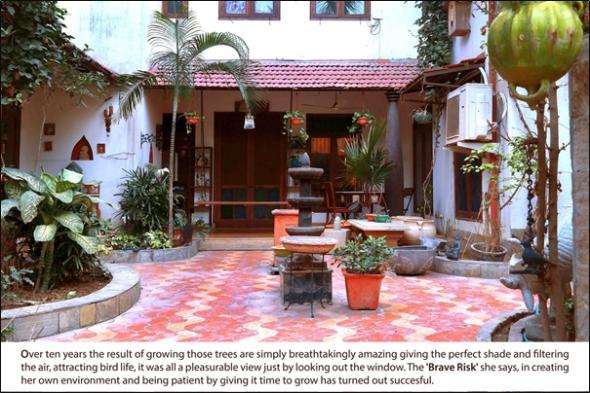 Over ten years the result of growing those trees are simply breathtakingly amazing giving the perfect shade and filtering the air, attracting bird life, it was all a pleasurable view just by looking out the window. The 'brave risk' she says, in creating her own environment and being patient by giving it time to grow has turned out successful.
She had developed a keen interest in decorating her home since childhood. Hailing from Chennai she explains, "I grew up in a house where art and culture was much appreciated, studying in a school where arts and crafts were encouraged". The family trips to Kerala and Tamil Nadu during her childhood made her grow a fascination for wooden made houses, captivated by its old architectural style and the atmosphere it created. Designing her home in a blend of 'Colonial-Indian ethnic' style had always been in the back of her mind, during her studies in Law School where she had met her future husband, sitting next to him in class she showed him a picture of a house she had drawn telling him, "One day if I ever have the money this is what I would like to do".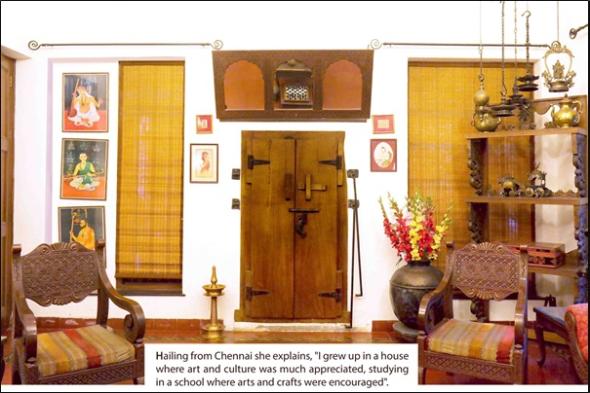 Rajagopal explains how she visualizes the settings of the room before building it, making sure that each room receives perfect natural light, air breeze and a setting of high ceilings and tall doors. The windows in her house are painted with different colours, a style she adores which have been influenced by the typical South Indian village homes. She and her husband started their furniture collection when they owned a scooter, a rocking chair they bought from Dilli Haat and a lovely mink chair from a shop named 'Antiquary shop' sits on the colourful floor in their living room. She feels that she has a 'scent' for all the things she loves, in this case - decors. When she discovered about the place called 'Amar colony' she defined the moment as 'a whole new world opening up in front of her'. Amar Colony in Delhi was also the place where she bought her first piece of furniture 17 years back.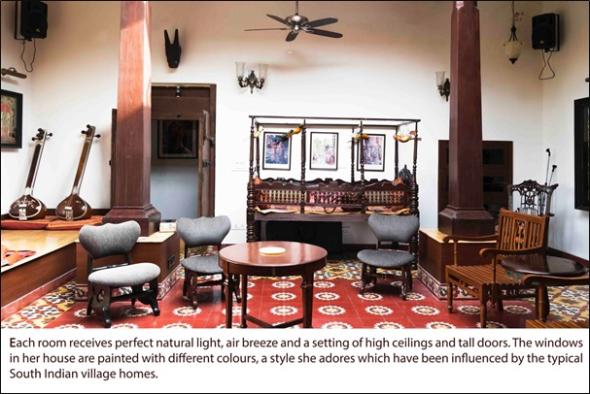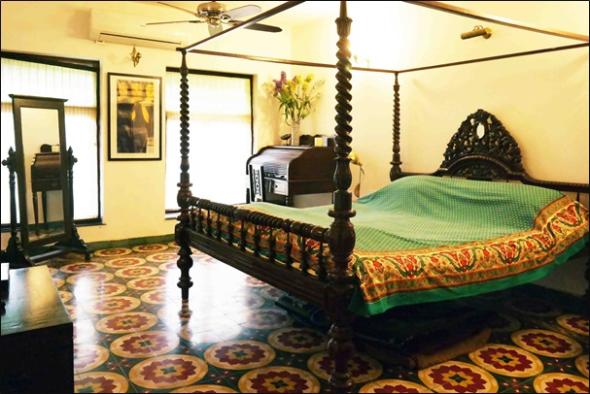 The flooring of the house is done with colorful printed cement tiles known as Athangudi tiles, a popular hand made decorative floor tiles originating from a village called Athangudi in the Chettinadu region of Tamil Nadu. The living room is made complete with a distinctive fireplace positioned at the focal point of the room, a natural attraction during the winter. Above the fireplace is a stunning charcoal painting of a tiger she bought from a recent safari trip to Ranthambore in Rajasthan. Her love for Indian art is displayed on the walls through the amazing Kalamkari and Tanjore paintings. An avid lover of music and enjoys spending time singing once in a while in the temple Rajagopal owns around four tanpuras she displays in the corner of the living room. These Miraj tanpuras were made in a village called Miraj in Maharashtra, a place known for producing the best tanpuras.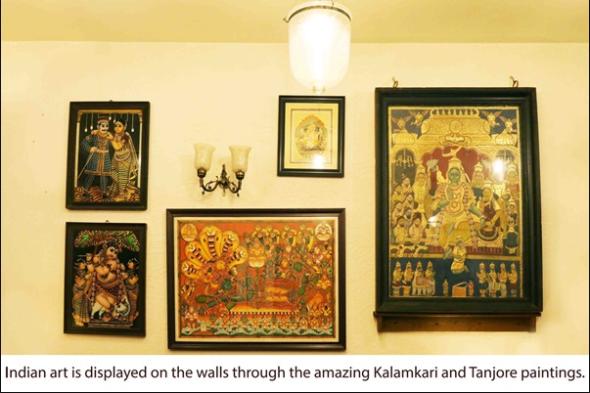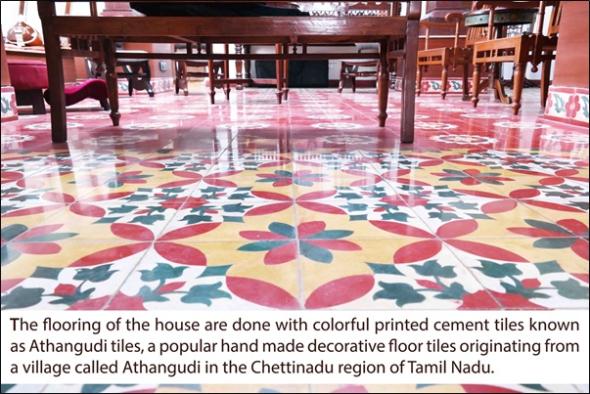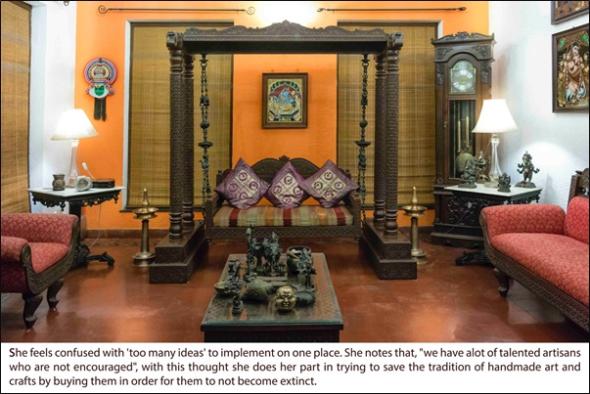 With 'so many good things our country offers' she feels confused with 'too many ideas' to implement on one place. She notes that, "we have a lot of talented artisans who are not encouraged", with this thought she does her part in trying to save the tradition of handmade art and crafts by buying them in order for them to not become extinct.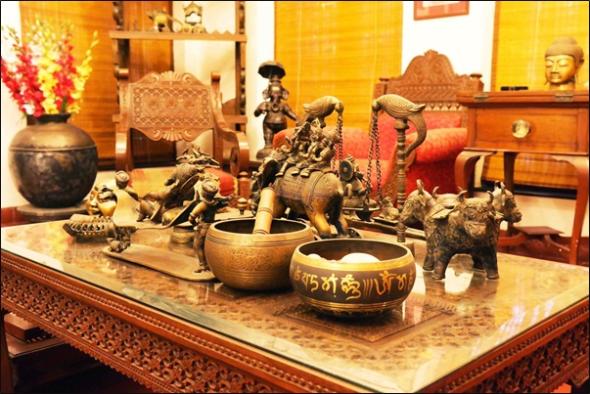 Similarly, online shopping sites such as IndianShelf creates a bridge between the buyers and the rural producers of handicrafts, aiming to expose to the new generation that these kind of art still prevails even today and you can benefit out of it, she explains how 'shopping for handicrafts is made easier for people who are too busy to tour around'. She invests in decors for the house and remarks with passion how her 'interest lies in designing and spending time at home', home is her 'universe'.