A room feels complete with the right type of curtains complementing the windows. Other than to ornate a room with its style and color, they shield the heat from outside, provide privacy, add texture and warmth in the place. Curtains differ in their length, thickness and color according to their functions and taste of the homeowner. Many people make the mistake of hanging curtains the wrong way which results in a rather shabby or untidy scene of the room.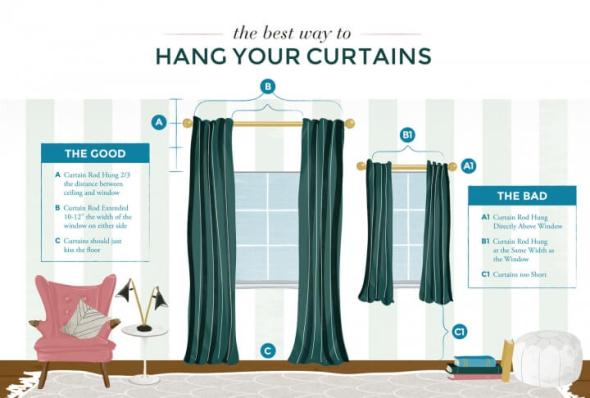 In a more formal space like the living room of a house, an office or any other workplace the curtains should be silk or velvet to add grandeur to the room. Lighter materials like cotton and linen works well with a more casual feel. The color and pattern of the curtain depends upon its surroundings. The color of the curtain should be a shade darker or lighter than the walls so as to blend in with it. Curtains with bright colorful hues pop out with liveliness and keeps the room from looking stale. If the furniture and walls are already heavily patterned, the curtains should be plain and simple. On the other hand, if the room is subtle and minimal, patterned curtains should be considered.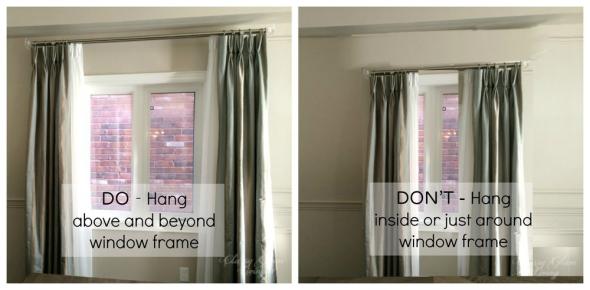 Measurement is important, fixing the rod four to six inches above the window frame and narrowing its width creates an illusion of a taller window. The width between the curtains should be broader if the rod is fixed lower, just above the window frame, it allows more light and leaves the room looking more grand. Puddling the floor with the bottom of the curtain appears casual and romantic but it can seem untidy at times and difficult to manage. To avoid dragging, leave the well-tailored bottom of the curtains hanging just an inch above the floor.
The heading of the curtain defines its overall style and functionality. A basic heading of a curtain is attached to the rod with rings stitched to the hem of the curtain, this is the traditional style of attaching curtains to rods and is easy to use. Pleated headings look more formal and smart. To make the curtain stay put, the rod is inserted inside a channel at the top of the curtain, the fabric gathers at the side of the rod and does not let the curtains slide easily. Choosing the fabric depends on the mood of the room, curtains should blend in with the colors and patterns of its surrounding. It is always a wise decision to go to the store and touch the materials and swatches before purchasing.