Remodelling your home doesn't always require a heavy wallet. It's not that costly an affair as we think generally. Why we feel home décor as expensive is because we tend to look at the big picture and ignore the smaller one.
Remodelling your home doesn't always require a heavy wallet. It's not that costly an affair as we think generally. Why we feel home décor as expensive is because we tend to look at the big picture and ignore the smaller one. Changed the paint, polished the wood, new tiles look so good, but oh! did you change the knobs? And handles? Nope, guess so. Knobs and pulls are the most neglected sections while planning décor ideas for our home.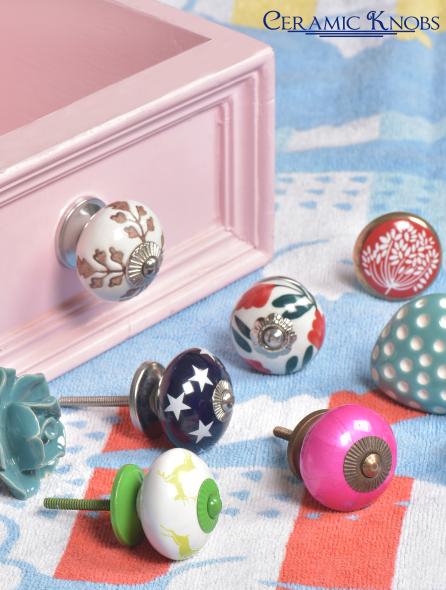 However, you'd be surprised to know that with these small pellet-like hinges you can literally transform your interior setting. They can create thousands of possibilities in décor both unique and useful. IndianShelf, India's leading producer of handmade décor crafts, comes with a collection of many such magnificent handmade knobs and handles.
The collection consists of a variety of knobs and pulls handcrafted from thousands of independent craftsmen. These can be used anywhere from kitchen cabinets to doors or bedside chests. Check out these distinctive interior design ideas by IndianShelf and revamp your home too!

Ceramics - Into the Era of Classic Charm
Not just vases or tableware but also the knobs, knockers, handles, and scrolls of ceramics are in vogue these days. From streets of Ceramic City khurja to Portuguese museums of Pondicherry, the designers at IndianShelf comb from city to city to find the best designs in white clay. This white clay called ceramic has been popular among households and artisans from the very middle ages. Known for their chunky finish and glass texture, ceramic knobs complement almost every type of décor setting. Still and all, IndianShelf brings to you a wide collection of door handles and Drawer Knobs in ceramics.
Whether you are looking for vintage style décor, nature-inspired interiors, or even funky modern accents, you'll find it all here. Say for instance you like British colonial style décor; these gold-etched creamy knobs will instantly shift your home interiors into a classy colonial setting.
Metal - Play with the dice of Metallica
Whether you like to have a platinum-elegant house or either you're a play bird of art, metal is one thing that suits everyone's taste. Try out these exclusive metal knobs and handles at IndianShelf, lots and lots of options to play with. You'll find anything from antique iron cabinet pulls to butterfly shaped knobs to intricately etched brass handles. If you like experimenting with fusion décor, wood and metal are a spectacular combination. To complement, find hundreds of metallic wooden knobs online at rates as low as INR 75. For a corporate setting, these brass resin knobs are just perfect.
Glass – Crystal Crystal on the Wall
Yes, a little sparkle can revolutionize the overall furnishing of a house. These crystalline glass studs and bar handle pulls will add interest to those mundane walls, bookshelves or bedside chests in there. These glass knobs have a natural tendency of giving the place a periodic feel. For instance, consider this mint green glass dresser knob. When you pull a drawer with this knob fixed, it feels no less than opening an ancient treasure box, isn't it? It is also available in a variety of shades viz. amber, royal blue, clear glass, olive and sea green; all within a price range of INR 120 to 150. Next, if you're a diehard creative homemaker, we know you don't want to leave a corner undecorated. For you, IndianShelf has these crystal tingly melon glass knobs and pulls online. They will give a Victorian style look to your powder room and literally make you feel like a queen (or king!).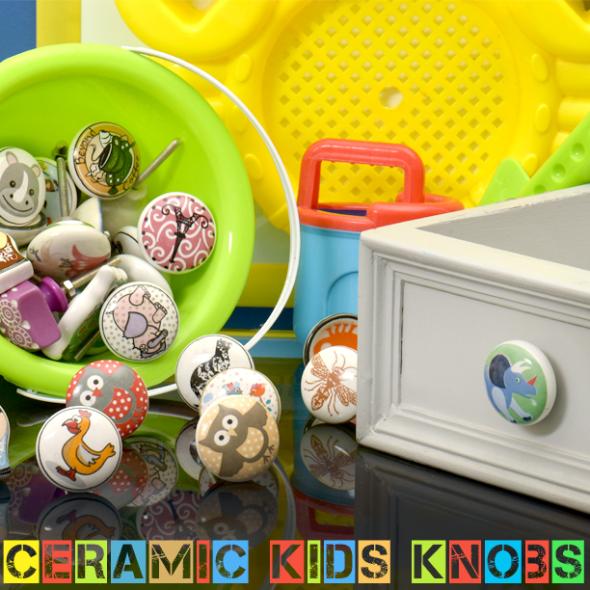 Multi-color – Paint with Rainbow
Same distressed walls, repetitive wooden cabinets, almost decade-old bar handles and so on. Why wake up in same old surroundings every day, why not add a pop of colors. These days, especially colorful chromatic walls, rich-hued block furniture and blended crayon furnishings are in super vogue. These look even more gorgeous when splashed with multicolored handcrafted knobs and handles. Electric blue, forest green, candy pink, mango orange and subtle gold, take any shade and you'll find that in the gallery of IndianShelf. Though they are available in various shapes and sizes, you won't be able to miss these square-cut wooden box knobs, concentric circle studs and rangoli bridge door handles. Also, if you have a kids' study room, they will love these alphabet printed ceramic pulls. Not more or less but each day with your first blink of the morning, you will be welcomed with a jazzy dance of color that cheers you up!
Big Handles – Make Them Fall For Your Door, Not At Door
Leave aside drawers, chests and that secret store room behind the laundry; the first host that welcomes your guest even before you is your door. Doors are things that can make or really break the first impression. Therefore, it's essential to plan out a renovation plan for your house doors too. As for its chipped wood or fading polish, we all pay attention to it.
All the more we can do is to pay some attention to its handles and hinges too. IndianShelf features with many such handmade carved door handle. Pick what complements your décor the best, be it brass, glass or metal. Choose from a variety of designs like fish, peacock, Ganesha, serpent, and leaf bridge. Avail cash on delivery and there you go. And yes, remember, home décor is incomplete without door décor! People change, trends change, décor changes too, but people it's time to create your own trend.
When a few buckets of paint and pairs of new curtains meant renovating your house, those days are gone. Think different and look at the usually overlooked areas of your house. You'll see those little drawer knobs and door pulls waiting to sneak your attention. Change them. Imagine your favorite cabinets dotted with this teeny weeny quirky perky tiny little button like knobs!