Take a tour into chunky ceramic handicrafts at IndianShelf
Art in itself is synonymous to boundary-less. However, some art forms are there which really can't be pigeonholed even in the boundaries of words. Ceramics is one of them. Though dating not very long ago, ceramic art depicts a magnanimous time block seeing which you won't be able to tell whether to compare it with 'old gold' or with 'modern platinum'. It's beyond both of these.
Ceramic is a non-metallic clay-like material usually offering a creamy texture to objects. To add to its art, it is sometimes coated with colourful paints and water-resistant lacquer. Today, the market is brimming with innumerable ceramic products. Right from beautifully carved dishware sets to marvellous bathroom tiles, attractive knobs and handles to cutlery, everything is within our grasp. And with the advancement of technology in the passing years, people now can procure these products at a click sitting in their homes. A multitude of shopping portals has cropped up, because of which, people now evade purchasing things from retail stores and bask in the convenience of online shopping. Indianshelf is one such online marketplace that presents the buyers as well as the onlookers with a diverse range of ceramic products. Taking shape through the hands of expert ceramic potters and craftsmen across India, they are one-of-a-kind. Let's take them in one by one.
Wall Hooks - Time For Fresh Florals
Discard those Corroded Hooks. Now it's time for some Attractive Floral Motifs
For how long will you keep holding on to these age-old iron hooks and ruin the look of your walls? It is high time you cease the application of these wretched looking hooks and replace them with some brand-new, modern and chic holders. Wall hooks are used for hanging towels and apparels, dapper coats and hats, lovely scarves etc. The word hook recalls the typical shabby looking, rusted iron material that has been put into use for ages. Many people might not be even aware of the new-fangled designs and materials that are out there in the market. Have a look at this golden ornamental ceramic wooden hook. Dumbstruck! Well, you ought to be. It absolutely seems perfect to hang that elegant coat suit on this. Built with authentic brass and porcelain, this floral hook can, in fact, be used to hang everything from jewellery to towels.
If you have a taste for golden-cream South Indian colour combination, try this golden carnation ceramic hook. Yet another exquisite ceramic wall holder coming at INR 425.
Likewise, if you like contemporary, effervescent and bubbly colour splashes in your home décor, then you can go for products like multicolour ceramic hook and leaf and melon hook.
Knobs – Design Dots of Your Home Décor
Stunning Ceramic Knobs
Knobs are used to pull open something such as doors, cabinet drawers, windows, kitchen cabinets etc. Would not it be awesome if some magnificent ceramic knobs are attached to the kitchen cabinets, doors and chest of drawers? Smooth to touch and glossy to look, they offer best of both worlds.
Ideally, you should choose a design that complements your décor. For a cool décor, choose flashy prints, for a subtle décor, choose archaic designs and likewise. If you have a love for all art nature, this hibiscus red flower knob looks great on cabinet drawers, kitchen cabinets and even doors. Pertaining to the design on its surface, this knob has been furnished with the name hibiscus. It comes in three shades viz. silver, golden and antique.
As a variation, forest green and hibiscus green flower leaf also provide unique motif look.
Door Handles – Welcome A Classic Feel
Leave Your Guests Mesmerized with These Exotic Door Handles
Doors are the first thing that your guest will notice, and dilapidated doors with worn out handles can ruin your impression. And hence, refurbishing your home also calls for a decking up for your doors. Wondering how? Well, lifting the décor look is as simple as it gets.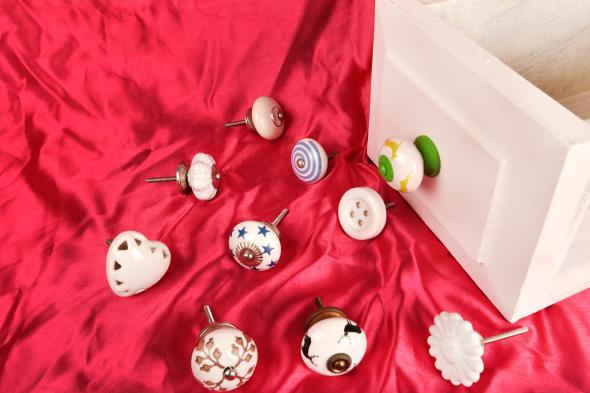 Look at this gorgeous brass mudra knobs. This unique piece is made up of brass with a mudra-like-symbol. Just as it has enraptured you, in the same way, it will delight your visitors as well. After all, a mudra is a signage of a saint's blessing. Also available in Ganesha and sheep designs, the knobs are great for an art showroom or a jewellery shop too.
Other than ceramic knobs and handles, ceramic cookware and crockery are also available at Indianshelf. And so, give a dash of creamy-chunky texture to your sweet home. No matter how small or big it is, it will give off a grandeur charm, a ceramics charm!