Quite difficult to ignore prominent use of elephant motifs on royal mantles, heritage architecture and even on many of the princely states flags, this animal was declared heritage animal of India in 2010 by the government of India.
Brutal Death of a Pregnant Elephant in Kerala
Quite difficult to ignore prominent use of elephant motifs on royal mantles, heritage architecture and even on many of the princely states flags, this animal was declared heritage animal of India in 2010 by the government of India.
The animal which is also considered sacred in India did not deserved the brutality it faced recently in Kerala. People are demanding for a death penalty of the murderer of a pregnant elephant.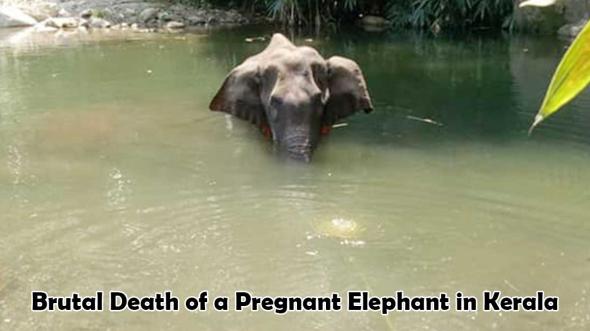 It's a shameful act that we are destroying the treasures of our country. Its our duty to preserve the wild life of our country and not to murder any wild animal that too a pregnant elephant. It's an inhuman act and the culprit behind this act should be penalized for this shameful act.
This pregnant wild elephant was in Silent Valley Forest of Kerala when she was targeted for the extreme of human cruelty. A man who was the main culprit behind this incidence fed her with a pineapple which was filled with powerful crackers.
Just she started chomping, that pineapple exploded in her mouth. As soon as she chewed the pineapple and it exploded in her mouth, her jaw was broken and she was left totally helpless.
Definitely to eliminate her, she was fed up with the pineapple filled with powerful crackers. On may 27th, this pregnant elephant died in Malappuram beside the Velliyar River.
This incidence was the extreme of cruelty which shocked worldwide. Its our duty to protect the habitat of the heritage animal of India and offer a free life. It's an unexpected and heart-wrenching incidence from Kerala, the state which is proud of its highest literacy rate in the country. This incident highlighted Kerala as a state of goons where humanity got failed in spite of having highest literacy.
This incident has sparked animal activists and a massive row. Majority of wild life enthusiasts have demanded a strict and strong action against those people who trap and kill the wild animals especially the animals who roam here and there in search of food.
Most of the people called upon to impose some stricter rules to conserve our wild animals. Elephant's being India's heritage animal deserve to get lots of dignity and treated with care. Such an inhuman act cannot be tolerated by the people especially who are wild life lovers.
The forest officials found the elephant with numbers of injuries to its mouth which happened after trying to eat the pineapple filled with powerful crackers. Forest officials tried a lot to help that 15-year-old pregnant elephant but she totally refused to leave that river where she was found with so many injuries. It was said by the forest officials that it was appearing that with river water, the pregnant elephant was trying to relieve her pain.
Two days later that pregnant elephant finally died. She was having a pregnancy of two months. The person who carried out the autopsy conveyed that the pregnant elephant suffered with terrible injuries to her lower and upper jaws due to the explosion of cracker. Due to her injuries, she was unable to eat anything and has become too weak.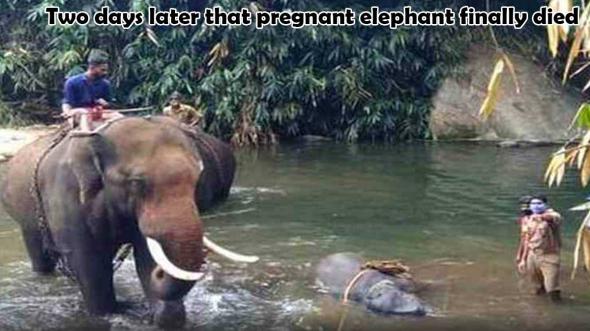 The state government of Kerala launch a major investigation of this murder case including more than 250 officials of forest department searching for different clues for the injury of that pregnant elephant.
It is said that elephants are killed frequently in Kerala and now less than 20000 elephants are left in India. They are declining with full speed and its our duty to save wild life of our country.
In our country one side the elephants are worshipped and used in the religious occasion to perform rituals and on the other side they are murdered with such a cruelty.
Government must start a campaign to save elephants similar to the National Tiger Conservation, the government must take a move for amending the act for wild life protection immediately and set up a National Elephant Conservation Authority. This amendment must be moved soon to conserve the elephants of our country which are declining day by day.
You Can Read Also: 10 Ideas Boosting your Immune System against Coronavirus During Lockdown
If it is not checked immediately then similar to Tiger the numbers of elephants will also come to 1000 in India. It is also recommended that essential steps must be taken to increase the numbers of elephant reserves in our country. It is very important to monitor the population of elephant with sincerity.
We have to look after poaching, curbing, man animal conflict and also its essential to relocate the local populations in order to conserve the population of elephant by making proper regulations and doing different development activities. Elephant must also be protected which are at zoos and numbers of them are at temples. There are 3500 captive elephants which must be protected with certain rules and regulations.
It is said that every year, more than 80 elephants are killed due to conflict between humans and elephant. As per the data of environment ministry, the main reasons behind the death of elephant are train accidents, electrocution, poisoning and poaching. Continuously the population of elephants is declining year by year. As per data 7 elephants are killed every month which means in every four days one elephant gets killed.
It is said that the main architects of the woodland ecosystem and forests are elephants. Ecologists feels that our woodland will cease completely without elephants.
They are also considered as the natures gardener and thus they play a key role in pollination, shaping the landscape, improving the fertility, in germination of seeds in forest with heaps of dung. 40 % of tall tree species and 30% of gigantic tree species in tropical forests depend totally on elephants especially for seed dispersal.
Urgent measures must be taken and proper importance must be given to reduce the mortality rate of elephants. It has become very important to have a serious thought, detail discussion and proper implementation to save the heritage animal of India.